Enroll in Online Banking Today!
Stay Connected Wherever Life Takes You!
Staying up to date on your finances is vital to achieving your financial goals. We help make that easy by offering a number of online and mobile banking products. They each offer a unique ability that helps you manage your money more efficiently and on your terms.
Mobile Banking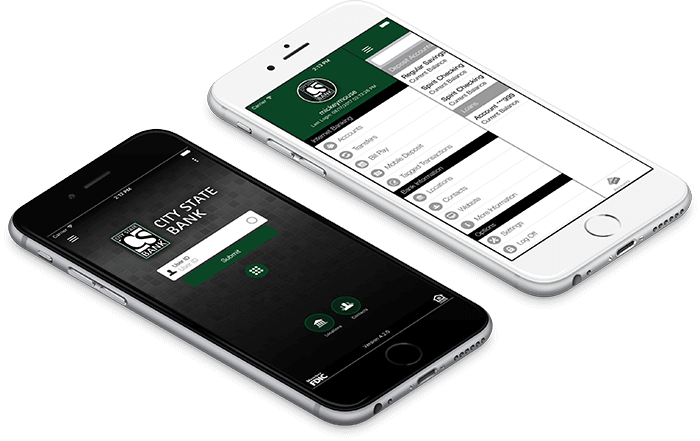 Take your bank accounts with you wherever you go with Mobile Banking! By downloading our mobile banking app for iPhone, iPad or your Android device, you can complete many of the same tasks as Online Banking.
You can also deposit checks from anywhere using Mobile Deposit. Simply snap a couple pictures, tap a few options, and your deposit is done.
Enrolling in Mobile Banking is Easy!
Online Banking
As an Online Banking user, you're able to access your City State Bank accounts from the comfort of your sofa:
Review recent transactions
Transfer money between your accounts
Set up automatic transfers from your checking to your savings account
See how much interest you've earned
Get a total snapshot of all assets and liabilities you have with City State Bank
And more!
Bill Pay
Pay virtually anyone in the United States with Bill Pay! From your phone provider to your cable company, you can both pay bills electronically and receive bills in one place. Whether it's a one-time bill or recurring monthly payment, you can make your payment conveniently and securely. No more time spent licking envelopes or money wasted on stamps!
Enjoy being able to receive/view/pay your bills while away from home
Automatic email alert when an eBill is received, containing amount and date due
Automatic email alert when an eBill has been paid
Take Bill Pay for a Spin with our Online Demo!
It's easy to enroll in Online Bill Pay:
LOG IN to Online Banking
Select 'Bill Payment' on the left menu
Enter your email address and confirm.
Read terms and conditions and choose 'Accept', then 'Submit'.
Online Bill Pay customer support is available Monday-Friday at 877-663-6141 from 6:30 am - 1 am CST.
E-Statements
Help the environment AND review your transactions securely with E-Statements! These electronic banking statements are accessed by logging in to your Internet Banking account. Not only are they protected by industry-standard security, but you no longer have to find a place to file your paper statements!
How to Enroll in E-Statements
Log in to your Online Banking account.
On the left menu under 'Statements', select 'E-Statement Enrollment'.
Select the appropriate account, change the delivery type to 'E-Statement'.
Read the e-Statement Agreement and select 'I Accept'.
If you have any questions about E-Statements, contact your nearest City State Bank location.